Pediatric and Pregnancy Chiropractic Care in Ottawa
Chiropractic Care for Babies and Young Children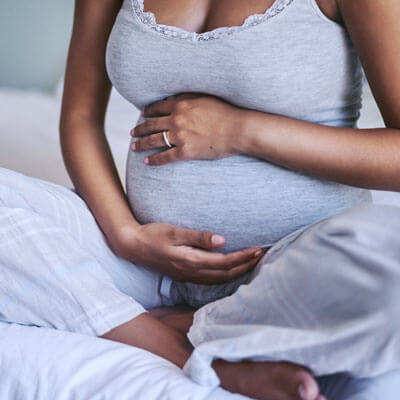 Did you know that 65% of neurological development occurs in the first year of life? Chiropractic care for infants, toddlers and young children consists of very gentle techniques that target common musculoskeletal health complaints to help promote optimal neurological development.
Pregnancy and birth is a physically demanding journey for both mama and baby. The type of delivery, such as vaginal or C-section, can influence how you both recover in the first several weeks. Common complaints seen in infants include: torticollis and suboptimal neck movement, muscular imbalances, latching and feeding difficulties (tongue tie), delays in motor milestones (rolling, crawling, walking, transitions), musculoskeletal support for reflux and colic.
NEW PATIENTS »

How We Can Help
Dr. Bekhit gathers information about your baby during a thorough health history and a physical assessment to look for common tension patterns, and then discusses your goals for a proposed care plan. Dr. Bekhit makes it her priority to provide education, reassurance and direction for your exciting new journey into parenthood.
Following conception, a pregnant woman will experience large hormonal and physiological changes that are an essential part of a healthy and successful pregnancy. Some of these hormones also influence things like flexibility, your tendons and ligaments, and more. This, along with all the postural changes that occur to accommodate a growing baby may lead to bouts of pain or discomfort. About 50% of pregnant women experience lower back pain during their pregnancy. Many women seek natural ways to manage discomfort during pregnancy, and prenatal chiropractic care can be a good option.
You may begin chiropractic care at any point during your pregnancy—you don't have to wait until you are in pain to seek chiropractic care. After a thorough health history and physical examination, Dr. Bekhit will propose a care plan that is tailored to your wellness goals. Our clinic is equipped with special pregnancy pillows that are designed to allow you to lay safely and comfortably during your appointment.
Some of the common musculoskeletal conditions that occur with pregnancy-related changes include:

Lower back pain
Mid-back and neck pain
Rib joint pain
Sciatica or shooting pain down the leg
Carpal tunnel syndrome
De Quervain tenosynovitis (mommy thumb)
Pelvic pain and pressure
Pubic symphysis dysfunction (SPD)
SI joint pain and/or pelvic girdle pain
Headaches
The postpartum period begins immediately following birth and lasts a lifetime—so beginning your recovery journey can begin at any time, weeks, months, even years following birth! In the haze of life with a newborn, it can be tempting to put your own wellness on the back burner. We're here to support you and help you prioritize your postpartum recovery.
Common reasons for seeking care postpartum:
De Quervain tenosynovitis (mommy thumb)
Postural changes
Diastasis recti
Gentle chiropractic adjustments (modified appropriately to the child's age, size and weight) and soft tissue therapy
Light craniosacral therapy
Palate assessment, tongue function, and breastfeeding support
Supportive stretches and exercises to correct compensation patterns
Milestone monitoring and ongoing education
Additional Techniques We Use
Webster Technique (a specific chiropractic analysis and adjustment to help balance the muscles, joints, and ligaments of the pelvis to optimize pelvic function during pregnancy)
Muscle release for various low back and pelvic girdle muscles
Ergonomic and postural advice
Athletic taping specific for pregnant mamas
Musculoskeletal pain is common in pregnancy, especially low back, pelvic and round ligament pain. By using kinesiology tape around the low back, pelvis and abdomen, the common postural aches and pains associated with a growing baby may be alleviated.
At home exercises to promote stability as your body changes
Breathwork and exercises to rehabilitate core and pelvic floor
Lifestyle management and support
Communication with your OBGYN, midwife, pelvic floor physiotherapist, and other healthcare practitioners
Book Today
We're here to support you and help you with prenatal care and to prioritize your postpartum recovery. Contact us today to schedule care.
CONTACT US »

Pediatric and Pregnancy Chiropractic in Alta Vista, Ottawa ON | (613) 728-9414